Help us raise £4000 for clean water in South Sudan
Every day I like to drink a lot of water – so much so that one doctor has told me I drink too much water, but no harm has come from it yet. However for the people of South Sudan even drinking a little water puts them at huge risk of harm.
My church (St John's, Moira) partners with the church in the Ibba dioceses of South Sudan (which by the way is the world's newest country). There is huge poverty there and much devastation as a result of years of civil war. One think they really lack in is access to clean water. We turn on a tap and out comes water – in some areas of Ibba they have to go to poor quality water sources that are contaminated, and put those who are forced to rely on that water at huge risk of diseases such as typhoid, cholera and diarrhoeal illnesses. These are diseases that in the Western world simply don't exist, yet in a 3 month period last Autumn 33 children died in the Ibba district as a result of water related diseases. That simply isn't good enough.
Which is why a group of us are running in a 10K race to try to raise £4000/$6240 to fund the drilling of two boreholes that will provide sources of clean water for the people of Ibba. The race is on June 19th in Lisburn, and I have signed up to take part along with several others from my church, which could be interesting given that at the start of June the furthest I had ran outside was 2 miles… But providing clean water and cutting the risk of disease, thus saving the lives of hundreds of children is a great cause, and if you have any spare change at all it would be great if you could donate to help. (It is being done through the Church Mission Society Ireland who are heavily involved in South Sudan and will make sure the boreholes are put where they can be of most use) – if you are able to donate at all the link to give online is https://mydonate.bt.com/fundraisers/ibbawater – it literally takes 1 minute to fill out the donation (feel free to put All4God in the comments box it offers you) and all donations are much appreciated, thanks!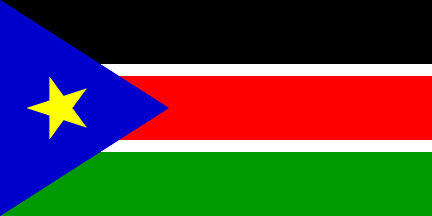 (SOuth Sudan flag – source: http://www.crwflags.com/fotw/images/s/sd%7Dsplm.gif )